Aqua Surf Shop asks Taylor Steele some questions about his new film- CASTLES IN THE SKY!
Note- all the below photos in this interview are from Dustin Ellison, from the CASTLE'S in the Sky trip to India. Visit his work at
http://www.dustinellison.com/blog
We at Aqua and Wavefest are very proud to present the new Taylor Steele surf film CASTLES IN THE SKY at the newly reopened Great Star Theater in China Town. I got to ask Taylor some questions about his brand new film.
CASTLES IN THE SKY is the second installment in the SIPPING JETSTREAMS series. SIPPING's theme to me, seemed to communicate the awe and wonder that comes from the adventure in traveling. Putting oneself in unique situations, and growing your awareness of all the different ways in which people act and exist within their varied environments and cultures. And of course finding epic surf in unexpected places!
Does the above parallel your intent?
Taylor- You have nailed it. That was our goal. I have two young children and they really inspired me. We started Sipping when my wife became pregnant with our first child. I was super inspired to make some movies I can show them about the world. Show them how beautiful it is out there. How great our contrasts in lifestyle are... How the differences in people are a good thing!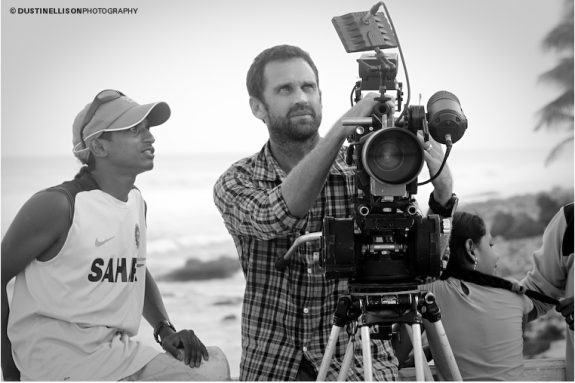 What did SIPPING represent for you?
Taylor- Traveling with eyes of a child. Approaching the world with an open mind.
How - does CASTLES continue or deviate from SIPPING?.
Taylor- By making it 5 locations compared to 8 in Sipping Jetstreams, we can really let each place breathe. So Castles breathes more. Hopefully you feel the place more.
What is one thing you would be happy to have the viewer walk away with after seeing CASTLES?
Taylor-That the world is a great place. A very exciting and inspiring one!
Where does CASTLES take us, and how did you chose these locations?
Taylor- India, Iceland, Vietnam, Peru, & Africa. We chose locations that have great diverse culture and potential for world-class waves.
Rasta in India- more correctly- Rasta in da tube in India.
How important was finding good surf vs. compelling culture and sightseeing in making those decisions?
Taylor- I thought the novelty of going to a place for only culture was getting old. No one wants to watch a guy grovel in 1-inch waves. Even if the culture is cool. So we tried to balance it out with good waves and good culture.
How do you feel about perhaps exposing a new surf location to the surfing world, and potentially creating a new international destination with all the good and bad that it brings?
Taylor- That is why we never name spots or towns. We don't want to start a surf gold rush to new spots. Living in Bali i see what happens to a great thing when too many surfers show up. One of my goals is to inspire those who are going on a surf trip to learn and bring back some good from the experiences.
Traveling to such locations can often be very challenging. Can you tell us some interesting travel anecdotes, horror stories, divine intervention, or feel-good serendipity?
Taylor- We have a 15 min intro to the movie with some of our experiences on the trips. We don't want to give it away but everything that could go wrong did making this movie. Yet it was the most rewarding.
Describe one new wave you found that stuck out in your mind as especially unique?
Taylor- India perfect wave that breaks through a pier.
How about the sketchiest craziest waves you shot for CASTLES.
Taylor- There was some waves in Sahara that are sketchy and dangerous!
What qualities did the surfer's on the trip bring to the adventure? How did you choose the surfers for CASTLES?
Taylor- The surfer's vibe inspire us and keep us fired up. We chose surfers for each spot that really wanted to visit the location and had similar attitudes with experiencing new things.
How do you balance the travel parts of the film with the surfing in order to keep the core surfer audience engaged?
Taylor- I tried to keep this in mind. "It's made for core." I think it has a good flow. If you liked Sipping Jetstreams than you will like it. IF you hated Sipping then you will hate this as well.
Does CASTLES maybe suggest that surfers should not be purely focused on waves when they travel and does it attempt to inspire surfers to explore and learn how much more there is to discover when traveling abroad?
Taylor- YES.
I know I'm guilty of it. Traveling so far away, and being blindly focused on finding surf, and nothing else.
How do SIPPING and CASTLES fit into Poor Specimen's entire body of works?
Taylor- To me it's my premium brand. The goal with both movies is to make something that last for a long time.
Do they strive to demonstrate a move by you to change the public's perception of what a surf movie is all about? Or are you just adding variety to the genre- say, a little something for those few seekers out there who want the complete travel experience? Is their any commentary here about the present state of surf travel?
Taylor- It is what I am into. I was so inspired making Sipping Jetstreams I moved to Bali with my family. That experience changed me as a person. 5 years later I still have a wanderlust deal going on. Can't get enough. So it's just the two loves of mine surfing and travel. I just try to make movies that come from my interests. My goal is to make a better movie than the previous.
Mahalo Taylor we appreciate your time and are very excited about seeing the new movie!
The SF premiere of CASTLES IN THE SKY
Friday May 21st
9pm at The Great Star Theater in China Town.
Tickets are available online
HERE
Fro more information please visit
http://www.aquasurfshop.com
or email
Read more
Comments
✕